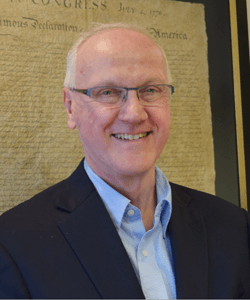 DAVID G. BALE, Managing Partner
Building on the Past to Create the Future
David has a deep understanding of business operations that helps clients make the right decision for their organization. In addition, David's experience with litigation gives his business practice a unique focus for both business transactions, asset protection, and litigation support. David was admitted to the Ohio Bar in 1978 and to the Ohio Federal Courts' Bar in 1982. David began his practice of law as in-house legal counsel for Grange Mutual Insurance Company supervising casualty insurance litigation within selected Ohio counties until January 1982. In 1982 David left Grange and began the private practice of law as an associate lawyer in an insurance defense firm in Columbus, Ohio. In 1983 David became a principal in Sheppard & Bale, an insurance defense law firm also providing general practice services located in a Columbus, Ohio. While there, in addition to litigation responsibilities, David was also responsible for the legal work with the firm's business clients and he supported the firm's estate planning and probate work. David opened Bale and Associates in 1991 and later organized the law firm as an Ohio limited liability company now known as Bale & Associates, Ltd. in 1995 when the firm moved to the Westerville, Ohio area.
David's past experience in the areas of estate planning and probate work also integrate well to support David's practice in the areas of Asset Protection, Business Services, Business and Trust Litigation.
EducationCapital University, Columbus, OHB.A., Political Science (1974)Wright State University, Dayton, OHM.S., Economics (1975)Cleveland State University, Cleveland, OHJ.D., Juris Doctor (1978)
In addition to his Juris Doctorate from Cleveland Marshall Law School, David has a Masters of Science in Economics from Wright State University. Using this background during his practice, David has assisted clients to discover ways of positioning their business to succeed and promote their understanding of ramifications of their business decisions.
Examples of Expertise and Past Experience:
Outside General Counsel for businesses, including business in International Trade;

Lead Counsel in numerous insurance and business casualty loss cases;

Faculty for continuing legal education to lawyers for asset protection, use of trusts and use of limited liability companies in business and estate planning;

Lead Counsel in restrictive employment agreements including defending and prosecuting non-compete agreements and business trade secrets;

Counsel for clients in Courts in Ohio and supervising outside general counsel for companies conducting litigation in other jurisdictions involving numerous business issues, such as franchise law, products liability and intellectual property.

Areas of Practice:

Asset Protection

Business and Commercial

Contract Drafting and Disputes

Entity Formation and Organization

Selected areas involving International Law

Real Estate, Commercial and Non-commercial